Gunite Pools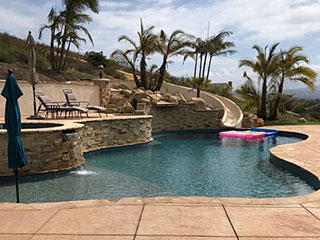 Swimming pools come in different shapes, sizes, and forms. Every material has its distinct advantages, which makes it important to consider all of them carefully to determine which option suits your requirements best. Most homeowners don't know much about pools so they need honest advice from an experienced professional on this matter.

Companies like Rainbow Landscaping and Pools have carried out pool installation for several years now and have deep knowledge about the real-life performance of different materials. They have worked on installation projects for customers in Camarillo, Malibu, Calabasas, Thousand Oaks, Westlake Village, Ventura, Montecito, Oxnard, Santa Paula and Fillmore, CA. They understand which materials can withstand outdoor conditions in these locations. Gunite swimming pools have been very popular with homeowners in this region.


What is a Gunite Pool?
A gunite pool is similar to traditional concrete installations but doesn't have their major weaknesses. It is made from a mixture of concrete and sand, which ensures this structure, is resilient and will last for a long time with good maintenance. Here's a look at the gunite pool installation process:


Contractors first excavate and prepare the ground for installation. They make sure everything is level and the ground is lined properly to form a moisture barrier.
They then install a rebar framework that is custom built according to a swimming pool's size or design.
This framework is sprayed with a liquid concrete/sand mix until the entire structure is covered properly.
Contractors then smooth this concrete mix down with a trowel until it forms an even, level surface.
This mixture is then allowed to cure completely before a finish of your choice is applied to it.

Gunite pools are more durable than regular concrete structures because they have a metal framework rather than a wooden one. Exposure to moisture, leakages, and similar problems can cause considerable damage to wood frameworks. Repairing this damage costs a lot of money. A gunite pool won't be damaged as easily because the framework is made from reinforced steel.


Custom Design Gunite Swimming Pools
Customizability is one of this material's biggest advantages. Unlike fiberglass or similar prefabricated materials, gunite pools can be shaped into any shape or size you wish. For example, if your backyard has enough room for a natural pond shaped swimming pool, gunite is a great option. You can also choose from a wide array of finishes and find something that fits into the home's architecture well. Different finish options include:


Different colored tiles
Colored plaster
Pebble aggregate
Paint
Glass beads
Marble

All of these options are available in different color varieties so there's no need to stick with blue or white. These finishes are applied over a cured gunite surface and serve a dual purpose. They enhance the beauty of a swimming pool while protecting the underlying concrete from damage.

Design and installation of this pool require specific skills and tools so it's important to hire a company with experience in this field. Hiring companies like Rainbow Landscaping and Pools ensures your inground gunite pool is resilient, well-designed, and will last for a long time.

"MORE ARTICLES"
Landscaping
Inground Pools
We Provide Services to the Following Cities, Towns and Surrounding Regions of Southern California: