Inground Pools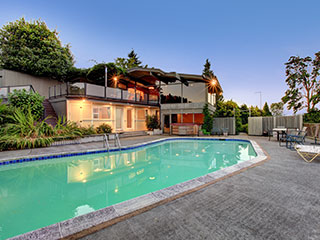 A pool is a great addition to any property, especially if it is designed and constructed well. This structure is more complicated than it looks so you need to hire experienced swimming pool contractors to handle the task.

Companies like Rainbow Landscape & Pools have ample experience installing well-designed inground swimming pools in areas like Camarillo, Malibu, Calabasas, Thousand Oaks, Westlake Village, Ventura, Montecito, Oxnard, Santa Paula and Fillmore, CA. If you're looking for reliable services that deliver great results, they can help.


About Inground Swimming Pools
Inground installations are very popular because they have a clean, seamless design. The feature is below ground level and embedded in the earth. They don't stand out or disrupt design flow of a client's property because the surface is flush against ground level. The seamless design fits in better with modern architecture, ensuring your outdoor space doesn't look too crowded.

Inground pools are more expensive than other options because their installation involves excavation, ground clearing, ground leveling, preparation, waterproofing, and other such steps. A lot of labor, planning, and material goes into such installation projects, which is why you need an experienced contractor for the task.


Types of Inground Swimming Pools
These pools come in different styles based on the types of materials used in construction. Every material has its advantages and disadvantages, so homeowners should consider all options carefully before making their choice. Here's a brief introduction to different kinds of pools:


Concrete Inground Pool - This is the most popular and durable option available today. If a concrete pool is installed correctly, it can last for several decades with proper maintenance. Liquid concrete is poured into the base mold on-site so it is easy to create a custom shape. You can choose a unique design that fits into your outdoor space perfectly as there's no need to stick with the regular rectangle or kidney bean shape. However, concrete pools are more expensive to install and require careful maintenance because of this material's porous nature.


Fiberglass Inground Swimming Pool - Fiberglass pools are pre-fabricated, which means they're not assembled on site like concrete ones are. This reduces the amount of labor involved because contractors just buy a prefabricated pool on your behalf and install it. This option is affordable as both the material cost and labor costs are low. Fiberglass also lasts for a long time while being low-maintenance.


Gunite Pool - This is similar to a concrete pool because it is made from a mixture of concrete and sand. A rebar framework supports the pool structure, making it more durable compared to the wooden structure of a traditional concrete pool. Gunite offers different finish and shape options, which is why it has become very popular with homeowners today.


Vinyl Liner Pool - This is an affordable option for people who want an inground swimming pool but are on a tight budget. Installation is quick and the structure doesn't require as much maintenance as concrete pools.

Hiring companies like Rainbow Landscape & Pools ensures your inground pool is resilient, well-designed, and will last for a long time. As this installation is a big investment and has an impact on property value, it's important to hire someone reliable for the task.

"MORE ARTICLES"
Landscaping
We Provide Services to the Following Cities, Towns and Surrounding Regions of Southern California: